Mary Raoul Fitzpatrick Internship Program
Mary Raoul Fitzpatrick Internship Program
---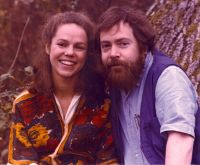 The Discover Life in America internship program is an incredible opportunity for four undergraduate students to immerse themselves in the natural history of the Smokies. We strive to offer a summer experience where our interns can explore diverse interests in science, art, education, and nonprofit operation.
DLIA is extremely lucky to have so many fantastic interns spending time with us in the Smokies. The Mary Raoul Fitzpatrick Photography and Natural Science Internship, sponsored by our wonderful volunteer, former DLIA Board member, and ATBI photographer Kevin Fitzpatrick, has attracted students from all over the country.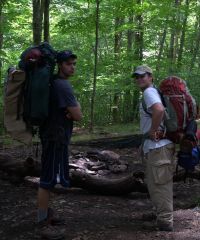 DLIA owes a great debt of gratitude to Kevin for his hard work, support, and outspoken promotion of this project over the years. Kevin had been a Board member for many years, as well as a volunteer photographer, and as mentioned above, a provider of an invaluable opportunity for young folks to become immersed in the ATBI through the Mary Raoul Fitzpatrick Scholarship in honor of his late wife.
Thanks so much Kevin! Each spring we choose interns - one in the field of biology, one as a photographer, one specializing in education, one serving in the field of media/PR, and one in videography.
The Biology intern is expected to aid scientists doing fieldwork in the Park, as well as assist in maintaining our taxonomic database.
Our Photography intern should be prepared to take lots of pictures of the beautiful plants and wildlife in the Park, as well as documenting DLIA events and keeping our extensive image galleries organized.
The Education intern will support all of DLIA educational activities, as well as take part in a variety of other activities that will enhance his/her own ATBI knowledge.
Public Relations and Media intern supports DLIA by raising awareness of, and generating good will toward this organization.
The Videography intern will be expected to support all DLIA activities where video recording is called for. This intern will also be responsible to set up and maintain DLIA video storage, and other non-video duties as assigned.
Please visit the Internship Testimonial page to learn about what being an intern for DLIA is like!
Each job offers unique opportunities both inside and outside the workplace, and there are many opportunities to step outside the focus of your specific responsibilities and pursue interdisciplinary interests.
Intern housing is usually available in a Park-owned cabin a mile south of Gatlinburg, TN. However, since this housing is popular and of limited capacity, it may be prudent to have alternative options investigated in the many housing developments outside of, but close to the Park. This, along with a small living stipend, varies from year to year.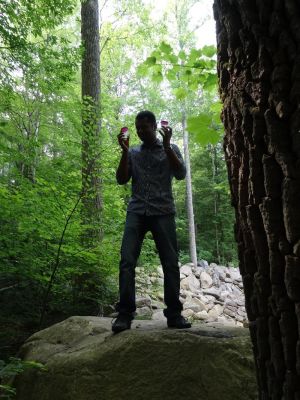 Living within the unique ecosystem that is Smoky Mountains National Park gives interns the ability to experience wilderness 24 hours a day. We encourage taking days off to explore the large number of trails and activities in this amazing area. Discover Life in America has been fortunate to have the help of several excellent student interns over the last few years, and we know this trend will continue in the years to come.
If you are interested, please fill out our online application. Send any questions to todd@dlia.org
Please note that at this point we no longer have any internship positions available for 2016.